Further to my earlier blog, I would like to share my postnatal experiences. I hope you will enjoy reading this too.
Without much trouble in the prenatal period, I entered in the 9th month of my pregnancy. As I was trying for a natural birth this time, anxiety started kicking in almost all night and I was getting impatient to carry the big tummy. I entered 41 weeks, but still, there was no sign of labor. I got admitted to the hospital, to begin with, the natural induction. In the initial 2-3 days, I was allowed to go back home in the evening to take rest. I was continuing with aerobic exercises too as suggested by the midwife. With the dream of having a natural birth, we passed each day at the hospital with continuous (24 hours) exercises (taking stairs, squats, etc) and natural induction methods. We as a couple was tired both physically and mentally.
Parent/in-laws were started getting panic at home because at Kerala, no one really waits after 40 weeks so is the case with my first pregnancy. Dr.Vijaya – My midwife was keen on taking their time and explaining to parents, once when they happened to see the tensed faces of our parents. But on a positive note – these kinds of moments are in a way it is good to mesmerize later. We realize/feel how much affection our family have on us. at the end of 41 weeks, I opted to go ahead with Cesarian (Vijaya mam was not in favor of that 😊). November 23rd evening, our little joy came to this world.
I started dreaming about a happy relaxed life with the little one and joyful postnatal experiences. After a few hours of surgery, I was shifted to the room with the baby. The baby was weighing around 4.3 kg, maybe due to this, he was a hungry baby. He started demanding for milk without allowing anyone to sleep. With the surgery pain, it was very difficult for me to latch him continuously. Days were becoming pathetic. On the third day, I was discharged from the hospital, I was much relieved then. Home Is Home!
But the game continued. Baby only wants to suck suck and suck or else scream. It is very much exhausting for anyone when the baby screams, so are we. Postnatal rest became only a dream. Thanks for my hubby and my mother for continuously carrying and try making the baby sleep after hours of walking around and playing the lullabies. My mother being a successful caretaker to three of her grandchildren, she was clueless this time. The moment we try to make the baby lie on the bed, he starts screaming again. We were becoming helpless. The pain that we went through cannot be expressed in words.
With constant sitting and restlessness, I got a minor infection in the incision area. That got added frustration and tension. After a month postnatal we went to hometown-Kerala, even though the baby continued to be cranky, with the home atmosphere, I was mentally okay. The struggle went on for almost 2 months. Now he turned 6.5 months and he is a happy silent baby. Hardly cries nowadays. Happy Home! 😊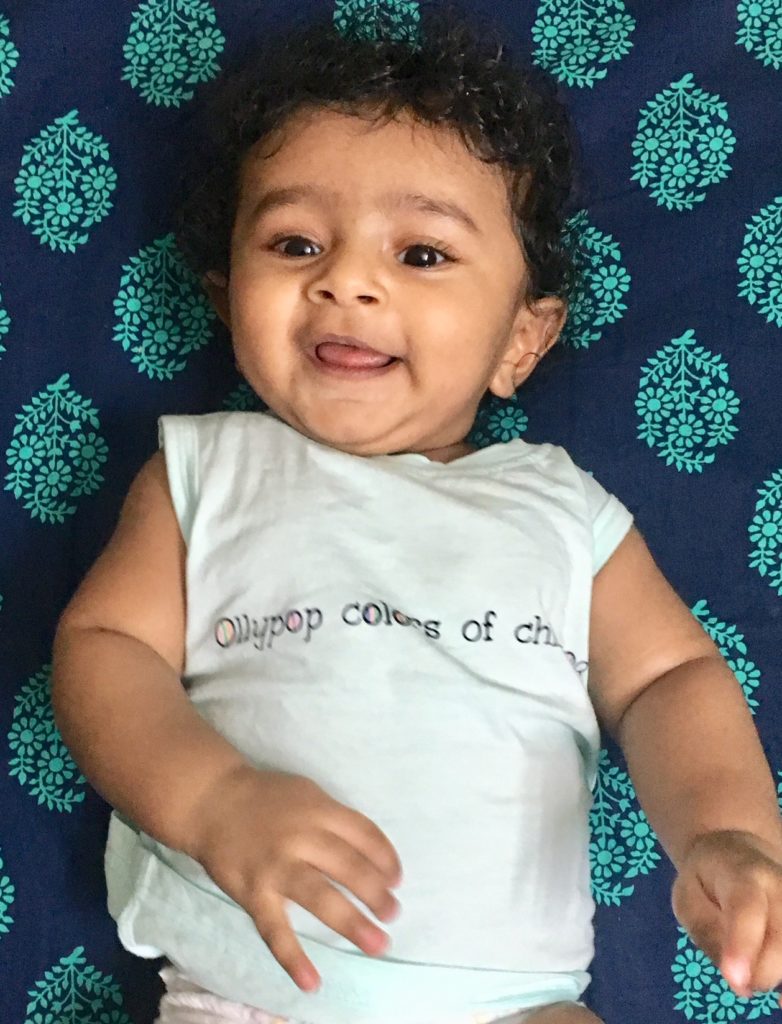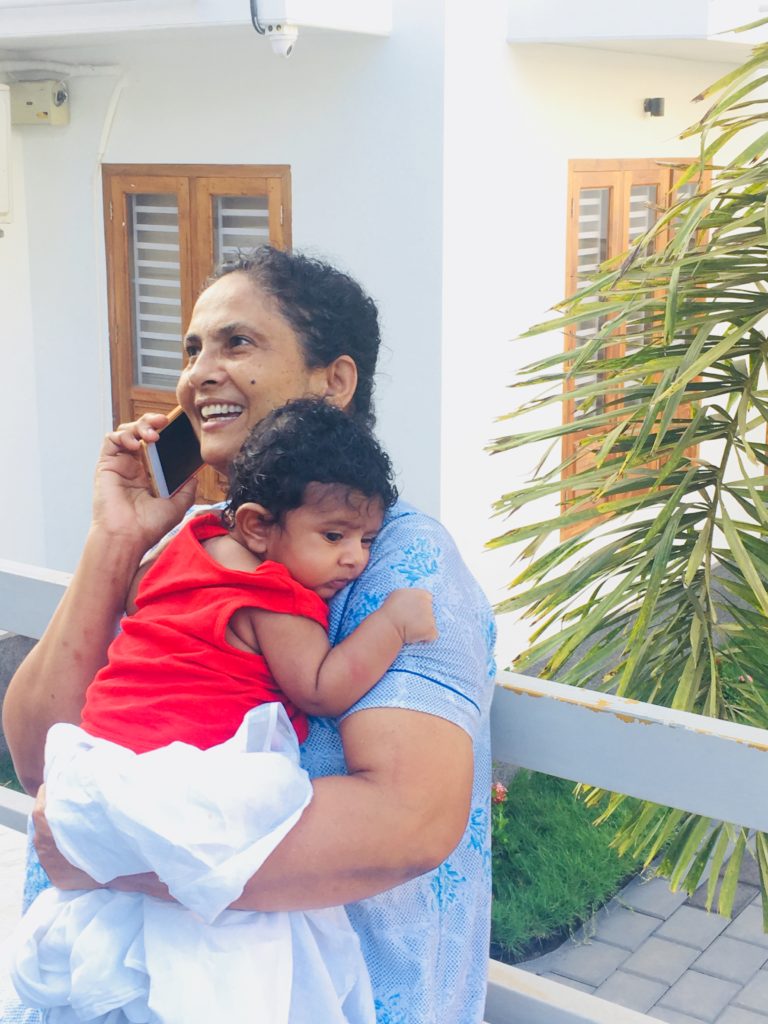 Postnatal experiences and tips:
Postpartum belly: This is the most worrisome issue everyone feels after delivery. We may often get disappointed by seeing the hanging belly and think that we will not be able to get in shape. Even this was the case with me too. Post 2 months after delivery, my belly looked as if I am 4 months pregnant. As this is my second c-section and with a 4.3kg baby, the belly was even more this time compare to last time. But I could manage to reduce it to half now and hoping that I will be back to shape in the coming months. I am almost back to my pre-pregnancy weight now. As mentioned in the previous blog, I could achieve this easily due to the strict diet and exercise during my prenatal period.
Things I did to reduce tummy:
Most people say, if belly binding is used soon after delivery, it helps to reduce the belly. But I was wearing on and off . As my baby was cranky I was not in a mood give attention to this.
When I visited Sanctum after 15 days, by seeing my tummy, one of the nurses there told me to check for a condition called Diastasis Recti (Abdominal muscle separation). She suggested to consult a physiotherapist and start with exercises, once obstetrician says okay to start the exercise. Google helped me to find a good physiotherapist at my hometown and when checked I had 1 finger gap in the abdomen. She suggested exercises specific to Diastasis Recti and I could fix the problem in 2 weeks. After this, I started some exercise + yoga and also kept an eye on controlling junk foods. So the point to note here is that if somebody is having this condition and start doing exercise like planks to reduce the tummy, it worsens Diastasis Recti and also belly looks more outward. Most of the mothers are completely unaware of this condition.
Mood swings: Postnatal Hormonal changes continue almost 6 months and hence the mood swings too. It is common to have postnatal depression also and the report says that it's getting increased today especially when the external support is less. The new mothers are not able to handle the new atmosphere, and the family members are also not aware of the fact that the mother is going through this phase. Hence the suicide rate too. As mentioned in the earlier blog, let others/yourself know that you are going through this phase. With the support of your dear ones, you will be able to come out of it.
A short film shows a newborn mother unknowingly suffers from postpartum depression and how her husband helps her to come out of that
Postnatal care: Postnatal care is essential to get back to pre-pregnancy state both physically and mentally. As the new mother is very sensitive during this period, it's important to give her comfort and care. That is the reason in India, we have a tradition of pregnant women being with her mother both during delivery and the postnatal period. It usually lasts up to six weeks. I think we Indians have more traditional postnatal care and it is different in different parts of India.
Me being a Malayali, we have an altogether different tradition in Kerala and its very effective in regaining energy and strength. I happened to visit the page – http://postdeliverycare.com/ which explains about the tradition that carried out in Kerala. I was lucky to get most of the postnatal care as per Kerala tradition by my mother and grandmother. In my postnatal experiences, what I loved the most is the medicinal hot bath.
There are certain myths also carried out along with postnatal care as part of the diet. The main thing among that was a new mother was not allowed to drink enough water and says if she drinks water it delays the postnatal recovery. But it is very important to drink 6-10 glasses of water especially if you are breastfeeding. Please try to differentiate between myth and reality by talking to your doctor to avoid health issues.
Make sure to have some kind of postnatal care by experienced people to avoid back pain, muscle pain, etc in the future.
Postpartum Hair loss: it's very common to lose hair 3 months post delivery and the good news is that it's temporary. If you notice, you hardly lose hair during your pregnancy period. Its due to the hormonal changes in the prenatal period and 95% hair will be in the growth phase during pregnancy. But after delivery again due to postnatal hormonal changes, a larger number of hairs enter in the resting phase and experiences more hair loss usually by 3 months. It returns to the normal hair growth cycle by 6 months – 12 months.
For me, exactly 3 months post delivery, large chunks of hair got lost every day. I thought I am going to get bald soon. 😊 It is almost 6.5 months post delivery now and looks like it came down to normal. I had major hair loss on the forehead, but I think now small new hairs started growing up there. I am not sure whether hair oil which I used did the magic.
Homemade hair oil recipe:
Cold pressed coconut oil – 250 ml
Fresh Aloe vera – two tablespoon
Boil coconut oil, add extracted aloe vera gel, curry leaves in it and stir until aloe vera gel becomes brown in color. once cool down extract the oil to a bottle and use it.
Each mother will have different postnatal experiences and stories to tell. I would like to hear your stories as well. Please post it in the comment section.
I wanted to conclude this blog by saying, going through this phase definitely not easy, but do know that this phase is sweet and also short. Being aware of what is happening with you and your body, and by being with your loved ones, you can easily pass this phase. Enjoy Motherhood!